Professional, Self-Maintained Websites
Are you looking for a website for your small business or personal blog that looks professional, one you can easily create and update, but doesn't cost an arm and a leg? Are you looking for professional photography to set your website apart from the ordinary? Well, you've come to the right place.
Starting from $19/Month
We specialize in giving your small business or personal blog a professional image.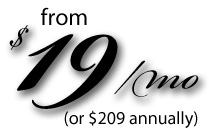 For as little as $19 a month, we'll get you set up with a site you can design and maintain yourself. No software to buy, no hefty setup fees. Everything is done online, safely, securely, and easily, right from your computer.
Or if you want a jumpstart, we can design your site from scratch, and turn it over to you. Our sites are designed to be easily updated and maintained by you, using powerful WordPress software. It can be much more than just a blog, or as simple as a blog. The key is that it's easy to maintain and update regularly — that's what makes your site useful and keeps visitors returning regularly.
Professional Photography
Professional photography can also help set your site apart. We specialize in people pictures — professional portraits, action photos, and commercial photography — photos that add that extra personal touch to help connect with your website visitors. And it doesn't cost an arm and a leg.
Copywriting and Editing
We can also help with professionally written and edited copy. Tell us what you want to say, and we'll help you communicate it clearly and correctly.
Contact Us Now
You're good at what you do. We're good at helping you convey that with your online presence. Simply, professionally, inexpensively. Let us help you build your image online. Contact us today.