We specialize in hosting websites and email for small businesses — professionally designed sites that are easily maintained and updated by their owners.
In the past, websites were complicated to create, expensive, and, if you had no design experience, the end results looked amateurish and sites were difficult to change or update. All that has changed. With a very minimal investment, we can get your small business online quickly with a site that looks professional and is easily updated and maintained by you.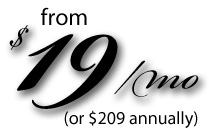 A blog (short for weblog) is a vital part of modern websites. A blog keeps your clients returning regularly to your website, and is a great way to stay in touch, informing them of new services and products. The most popular blogging software in use today is WordPress.
WordPress not only makes it easy for you to publish a blog on your site — it has evolved into powerful CMS software — a complete content management system. We specialize in hosting WordPress websites. We'll get your site set up and online quickly, and even teach you how to easily add to and maintain your site. Or we'll just give you the space on our server to host your site, and you can do everything yourself right from the beginning — whatever suits you best.
Prices start at just $19/month for hosting services, with no setup fees, or $209/year (one month free). For a very reasonable fee, we'll get your site set up and give you a running start. Contact us for information on getting started today.