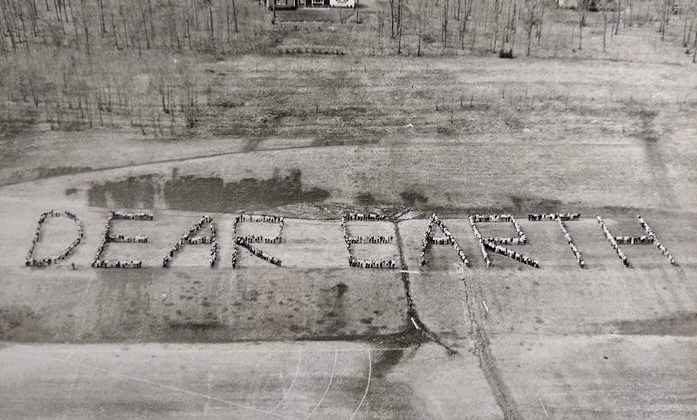 I took this photo on the very first Earth Day, 52 years ago today, when I was a senior at Pennridge High School in 1970. It was taken from one of Carson's cargo helicopters; Carson Helicopters is based in Hilltown Township (Perkasie, PA address) since 1958. Their helicopters have provided various services around the world to this day. Interesting side note: they manufacture the special helicopter blades used on Marine 1 which carries the POTUS. 
Anyway, here's a bit of back story on this photo. I was the official student yearbook photographer for Pennridge HS, and I was invited to be aboard the helicopter especially to take this photo. It was a cargo helicopter and there were no windows to photograph through, so the cargo bay door was kept open so I could shoot out the side of the helicopter without any obstruction at all. It was so noisy, as you can imagine, it was extremely difficult to communicate even though all of us (I think there were five of us, including one teacher and three crew members plus me) had helmets with radio communications built in, so they gave me instructions just before we left the ground for the short up-and-down flight. "See the rope across the open doorway?" "Yes." "Don't touch it; it won't hold you. That's just so you know where the open doorway is."
I was too young and naive to be worried about anything, so I just followed instructions and I got my shots. It was my first and only helicopter ride, one I will never forget. It would never happen today with all the liability and safety issues we follow now. And, of course, now it would easily be done with a drone shot.
Thanks to one of my classmates, Nancy Snyder, for posting this photo on Facebook today.