Apple released iOS and iPadOS 13.5 yesterday, the latest versions of its operating systems for iPhones and iPads. There are notable new features or improvements in at least six different areas, three of which are directly or indirectly related to COVID-19.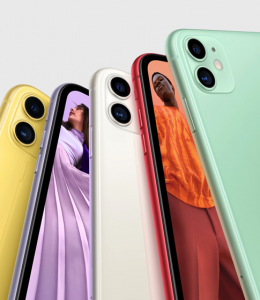 Most interesting to me is a change in Face ID that now allows iPhones or iPads with Face ID capability to open more quickly when you're wearing a face mask. In prior versions, the system would take two tries to recognize your face before giving up and presenting you with the numeric passcode screen to sign in. Now, if it recognizes you're wearing a mask, it immediately presents you with the passcode screen. It only saves you a second or two, true, but it's a nice change. It also works with other instances that present you with an authentication screen, such as ApplePay or the App Store, and other apps that support signing in with Face ID.
The new system also includes "hooks" — in the form of an API (application programming interface) for exposure notification. This Bluetooth-based service will allow apps developed by countries around the world to be installed on the iPhone for the purpose of COVID-19 contact tracing. Users will be able to opt-out of participating in COVID-19 contact tracing from the Health app once those apps are available if they wish.
Medical ID Sharing has a couple of new options. You can now allow your emergency medical information to be displayed on the lock screen of your iPhone for easy access by first responders. You can also allow it to be shared automatically with emergency services when you make an emergency call. Options for each of those are also in the Apple Health app.
Apple Music can now be shared directly to your Instagram story. Once a song is selected to be shared, Apple Music will use the song title, the album name, and an animated background to create the story.
FaceTime for groups has a significant change. Until iOS 13.5, the tile of the person who was speaking in a group FaceTime call was larger than the rest of the tiles in a group conversation. Now you can turn that "automatic prominence" feature off, and all tiles will be the same size throughout the call.
Last but not least, Apple also fixed a few vulnerabilities in iOS and iPadOS, as they always do in system updates. This release notably fixes a Mail security hole that could have allowed a hacker to execute code remotely via an email message.
I installed the release on my iPhone 11 Pro Max yesterday and have had no issues at all so far (almost 24 hours).
Apple is expected to release iOS 14 in June.