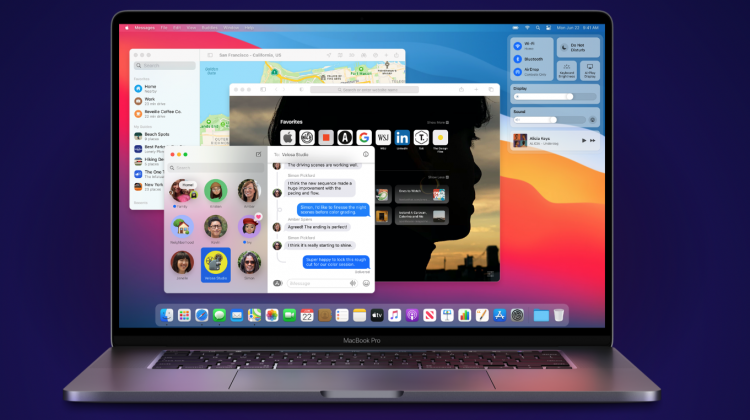 Apple's annual Worldwide Developers Conference 2020 is taking place this week. But for the first time, it's not a physical conference — it's a virtual conference, entirely online, and available not just to developers but to anyone interested. In past years it has been an expensive conference limited to a select number of developers chosen by lottery. Thanks to COVID-19, not only is it available to everyone who is interested, but it's also free. The conference opened on Monday with a two-hour keynote address from Apple CEO Tim Cook and a select group of top Apple employees; CLICK HERE if you'd like to watch it.
The purpose of the conference is to outline Apple's plans for the next year, especially as it would affect software developers. In the past, Apple has occasionally used the conference to unveil new hardware. This year, it was strictly software — announcing new operating systems for the iPhone, iPad, Mac, Apple Watch, and AppleTV.
Rumors were swirling faster than ever before this year's conference about what Apple would announce. For the most part, rumors were true as far as they went, but Apple filled in lots of details. There are numerous websites with lots of more information; for now, I'll highlight some of the upcoming features I found most interesting and exciting.
The new operating systems won't be available in general until fall. Apple didn't give any dates more specific than "autumn" and "by the end of the year." Beta systems were released Monday to developers, however, so they can get busy updating or writing their apps to be compatible. And public betas (yay!) are expected to be available in July. I'm already signed up for their public betas. Since I'm not back to work yet and not relying on my iPhone as heavily as when I'd be working, I'm planning to update at least my iPhone to the public betas as soon as they're available. I'll let you know when that happens and how it's going.
iOS 14 for the iPhone
The user interface for the iPhone will have some exciting changes and new looks, some of which Android users have had for some time already but are just now making it to iOS. You'll have new options to organize your apps, automatically grouping them in folders of like kinds. This will be especially helpful to someone like me who has more than 500 apps installed, many of which are so far out of sight I've forgotten about them. Of course, you could do this manually before, but who had time for that.
Widgets will be adjustable in size and capable of displaying more useful information. They can also be displayed along with the apps on other pages of apps on the iPhone — not limited to the Widgets page.
Picture-in-Picture is coming to the iPhone, so if you're watching a video on YouTube or Facebook, you no longer have to stop watching it when you switch momentarily to check something in another app. It will be similar to the way it works currently on the iPad.
Siri has been updated with more than 20 times the number of facts available.
A new app from Apple called Translate will make it easier than ever to have conversations between you and non-English speakers.
Messages (for texting) has been improved for texting between groups of people. And several new memojis have been added.
The Maps app continues to improve. You'll be able to save favorite places, track "Great Places," and share them. Detailed maps for Canada and several other countries are being added. There will also be routing built-in for cycling and routing for drivers of EV (electric) vehicles, including locations of charging stations for each major brand.
CarPlay includes new wallpaper to match your car's interior, have new categories for apps, and introduce a new Car Key feature that will allow your iPhone to replace your key fob. It'll be great to be able to unlock and start your car from your iPhone! The 2021 Audi 5 series will be the first to use those features later this year. Eventually Car Key will show up on almost all new models. No word yet on whether that feature may be available to older models that have CarPlay — I'm not holding my breath on that.
iPadOS 14
The iPad will get the same new features as the iPhone plus a few more. A new Sidebar will be available on the app pages and in many of Apple's built-in apps bringing more easily accessible functions. 
The Apple Pencil will get a greatly expanded role on iPads that support the Apple Pencil with a new feature called Scribble. Scribble lets the iPad recognize handwriting and change it into text, even for things like filling out forms, and making it fully searchable.
Mac
For the Mac, "Big Sur" is the name of the upcoming operating system, macOS 11. It features a clean new look, more minimalist in design. There are significant changes to Safari (faster than ever), Maps, Messages (including matching features found on the iPhone, at last), and a new Control Panel similar to that found on the iPhone and iPad.
The biggest and most exciting news regarding the Mac is Apple's announcement that over the next two years, Apple will be transitioning all Macs away from the Intel chips they rely on now to Apple Silicon. That means they will be making their own chips as they have already done the last several years on the iPhone and iPad. Benefits will be speed, security, and reliability, with the chips fully compatible with the hardware. Apple also announced Catalyst, an app that will make it relatively easy for developers to update their apps for Apple Silicon, and Rosetta 2, an app that will be included on new Macs to enable them to continue to run software written for Intel chips. We should expect to see speed and power unlike anything we've seen to now on the new systems.
Apple Watch
Apple WatchOS gets some nice upgrades, too. For the first time, you'll be able to customize your watch face more highly than ever with multiple complications from the same app, and then share it with other Apple Watch users. Cycling directions in Maps will be available on the Apple Watch. Sleep Tracking will finally be an official feature, including a new "Wind Down" setting that allows you to program more detail into your sleep preparation. And the Apple Watch will include automatic handwashing detection and start a 20-second timer to help you with a proper handwashing routine.
Other Notes
AirPods will get a significant new feature called Spatial Audio, the equivalent of surround sound in your ears. New features were also announced for AppleTV and HomeKit.
It's an exciting time to be an Apple user and part of the Apple ecosystem. New products, including iPhones, iPads, iMacs, and more are expected to be announced as early as September. Apple announced earlier this month that interest-free financing via the Apple Card had been expanded from iPhones and iPads to Macs. So it will be easier and less expensive than ever to keep your Apple gear updated.
Below is a two-minute overview of the announcements made on Monday. Check it out!