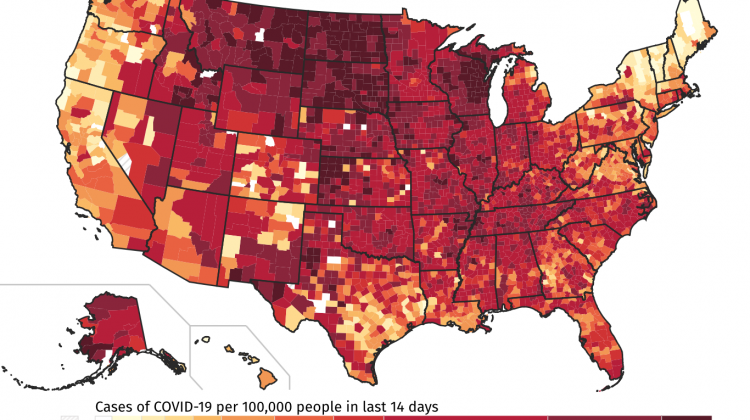 ---
I am tired of it. You're tired of it. We're all tired of it — talking about, hearing about, thinking about the coronavirus pandemic.
We are so tempted to become complacent. We want our "normal" lives back. The president is telling us we have to open back up, we have to take back our country, take back our economy.
There's just one problem: the pandemic is not becoming complacent.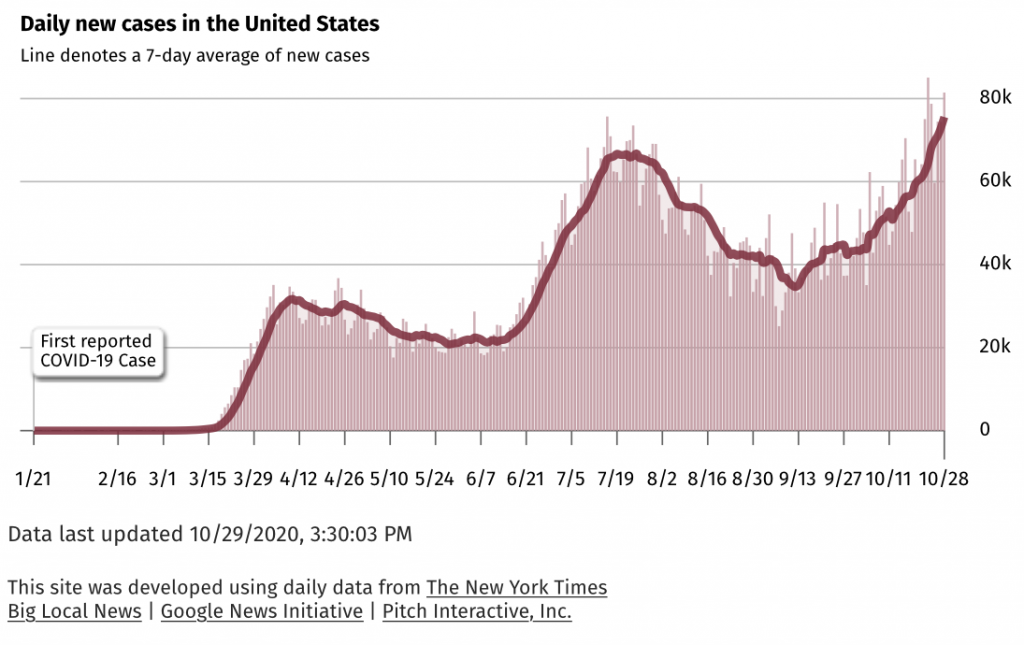 As soon as we yield to temptation and let down our guard, COVID-19 is right there to take advantage. Look at the map showing the hot spots in our country today. This isn't going away. It's getting worse — the third spike is currently underway, and it's worse than the first two.
According to the CDC today there have been 521,726 new cases of COVID-19 in the last seven days in the US, averaging 74,532 cases every day. There have been 5,609 deaths in the last seven days in the US, averaging 801 deaths every day. To date there have been over 228,000 deaths in the US. Almost every single US state is trending worse, not better.
Fortunately, we've learned a lot about treating the virus and deaths are declining as a percentage of infections. But we haven't learned to control the spread of the virus — or, perhaps, to be more accurate, we have lost the will to control it. The administration said this week they aren't even trying to control it.
Even more scary is that we're learning more every day how much we DON'T yet know about the virus, especially its long-term effects on other parts of our body — effects that might be with us the rest of our lives once we're infected.
I'm hopeful that if Joe Biden wins election to be the 46th president of the US next week the country will experience a surge of optimism and a new will to double-down and beat this thing. A vaccine is still a long way off, despite the promises of the president otherwise. We can't wait for a vaccine to take action now.
Be vigilant. Wear a mask anytime you're around other people you don't live with. Wash your hands. Practice social distancing. Don't even make short exceptions.
And sadly, we're going to have to continue practicing masks and social distancing through the holidays. That's going to be really difficult for most of us, me included. But we just can't take the chance on giving this thing the fuel it needs to force us into a really deep, dark winter.
The life you lose may be your own, or a loved one close to you. This is a time to live for the future, not short-lived gratification in the present. There is no "freedom" in dead.
And if you haven't already, VOTE. Vote for new leadership on Tuesday. The current administration has already given up, and we can't afford that.
---
Please Subscribe!
If you find my blog interesting or helpful, please subscribe using the form above right (or below, on mobile devices) and you'll be notified by email so you never miss a new post.